It is that time of year again…..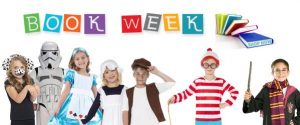 In week 10 of this term we will be celebrating the love of reading with our fantastic book fair and a week filled fund reading activities.
The book fair – Will arrive on Friday the 3rd April for students to browse and will be set up in the library. The  fair will be open for students to buy books: Monday 6th – Thursday 9th. Opening times will be 8.20-8.45am before school and 3.00-3.30pm after school.
On Wednesday, there will be a dress up as your favourite character.
Competition time!
We are holding a competition for children to bring in a picture of them reading in an unusual place. The winners will be announced on Wednesday the 8th of April, if all pictures could be handed to your class teacher by Monday the 6th of April  that would be great!