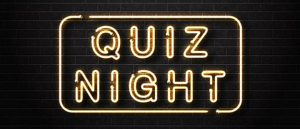 Tickets
The tickets for our 4th of September Quiz night fundraiser will go on sale tomorrow Thursday the 6th of August. Tickets can only be purchased from the office from 8am onwards and will be $45 each. We have 16 tables of 10 being sold. When purchasing a ticket please indicate whether you are buying with a group or as individuals so that you can be organised into those table groups.
Due to the fact that we are running a seated quiz night on a smaller scale to our usual Taste of Ponsonby fundraiser, we will only be able to cater for 160 people. We know that these tickets will most probably sell out fast so get in quick! If you do miss out we do apologise but we will have our Fireworks fundraiser in term 4 which will be able to cater to for all of our PPS family. This is a one off occurence this year due to the impact of Covid-19, we will be back to our usual fundraiser next year.
Quiz night info!
The doors for the quiz night will open at 7pm and the quiz will start at 7:30pm. Your ticket includes food for the night (platters, pizza and finger food) and entertainment with our fantastic quiz masters, Andrew Mulligan and Jay Reeves. There will be prizes up for grabs on the night. Not only for the  team winning  but also for the table who has the best theme and dress up for the evening, so start planning your outfits! If you are on a table with mixed groups of people, it would be great to get in contact with these parents beforehand and get some planning underway, a great way to meet some of the other parents in our school.
Please bring eftpos as the preferred method of payment at the bar, cash will still be accepted if needed.
There will be large and small auction items up for grabs on the night, we are currently working to use online software for these auctions so that parents can bid from the comfort of their own homes if you miss out on tickets! More info about this will come out shortly.
Thank you for your support, we look forward to running some fantastic events. For more information, please refer to the emails sent out by your parent liaisons.