Employment and Vacancies
Principal Vacancy
An application pack is available online at educationgroup.co.nz.
For further information please contact Tanya Prentice or Roween Higgie at admin@educationgroup.co.nz or 09 920 2173.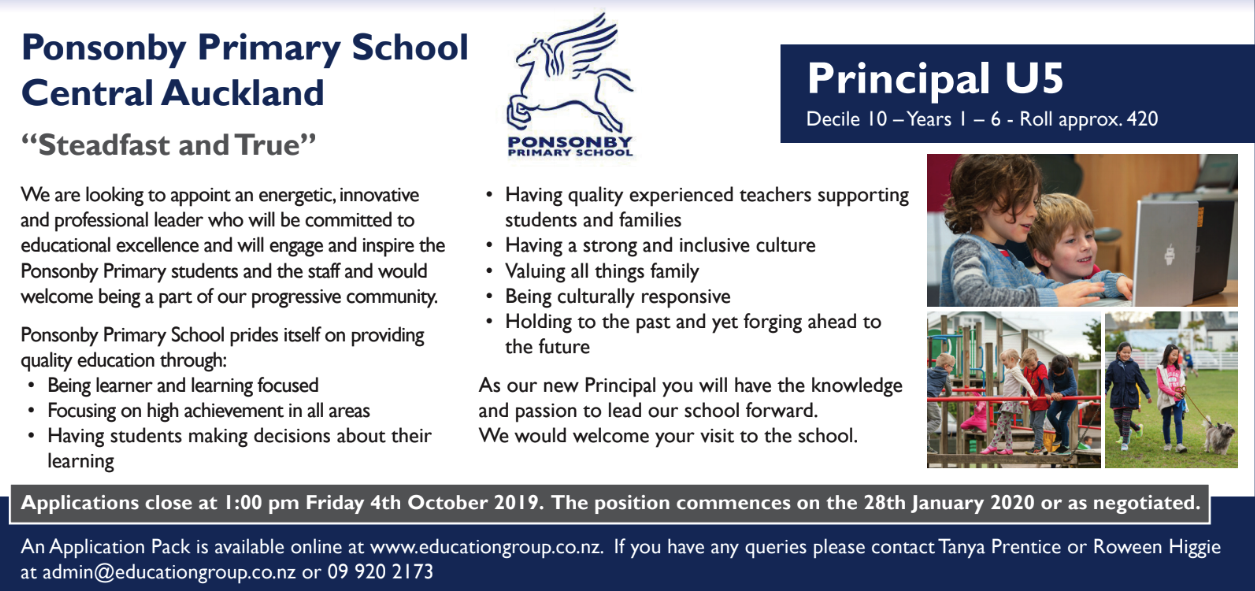 ---
Office Manager / Principal's PA
Please click here to view full job description
We need a team player who thrives on diversity within the role; a person who relates well to children and adults. We require an office leader/manager with strong prioritising, interpersonal and organisational skills.
You will work closely with the principal and deputy principals assisting in ensuring the smooth & successful running of the day to day business of running the school. You will need to be able to work both within a team and independently. Presentation skills are always helpful.
You will often be the first point of contact for our school, the voice on the phone and the face in our office; therefore, excellent people and communication skills are essential.
You will need to be computer literate in using Google Suite, Word and Excel.  Knowledge of, and experience in a school environment e.g. ETAP knowledge, our school management system, would be helpful, but this can be learned. The role is 40 hours weekly in a very busy school office.
If you are resourceful and resilient, but can also be flexible and cope with needs changing during the day please contact our Principal, Dr Anne Malcolm via email amalcolm@ponsprim.school.nz or phone 027 492 6060. Our team is happy to make a time for you to come and visit the school. 
Alternatively, if this sounds like you, please submit your C.V. listing two contactable referees via email to amalcolm@ponsprim.school.nz. A full job description can be viewed on the school website www.ponsprim.school.nz.
Salary is negotiable within the $50,000 – $60,000 range, depending on skills.   School holidays, start and finish times can also be negotiable.
Closing date for applications 8th October 2019 with preferred start date 14th October to be negotiated.
---